The Brown Bess; An Identification Guide and Illustrated Study of Britain's Most Famous Musket by Erik Goldstein & Stuart Mowbray is just what it says on the tin.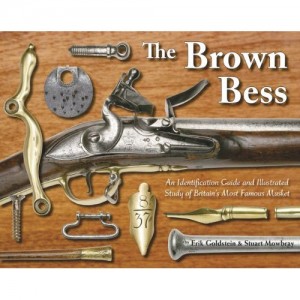 The Brown Bess is the foremost book on the variations and patterns for Brown Bess Muskets.  While clearly written for collectors and museum directors looking to identify items in their possession, this book will also prove useful to a third reader; the reenactor looking to modify his firelock into something more historically accurate than what is commercially available.  To a reenactor, this process is call de-farbing.  The illustrations in this book are tremendously useful to the de-farbing process.
Lets take a minute to discuss the illustrations some more.  Actually illustrations is a woefully inadequate term for the sheer mass of high resolution color photographs of surviving period pieces.  This book is more pictures than text and the pictures are amazing in their breath and detail.

Its worth the price of admission for the pictures alone.  The level of detail is incredible.

The text briefly describes the history of the Brown Bess musket and bayonets for them.  A nice overview of pattern, ordinance and maker's marks that were placed on the weapons at various times is also included.  After that comes a chapter for each of the fourteen different varieties of muskets described.  All are placed in their historical context and lavishly photographed.
The book can be ordered from Amazon and the publisher can be reached at www.gunandswordcollector.com.